Wind Energy
Wind energy is essentially the kinetic energy of gas molecules. The equation of Wind energy is:



The Power can be easily derived from the Energy equation:

Experimental Data
The wind turbine generated a relatively low amount of power but had a high angular velocity.

With a wind speed of 20mph, the turbine produced 2.2 Volts at 1.4 Amps. The maximum tested power output was therefore 3.08 Watts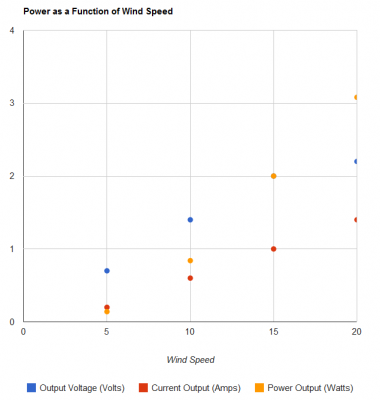 Construction
Conclusion
Although the Power produced by the windmill is not significant, the rotational speed of the windmill was very high at wind speeds of 10mph. To produce a worthwhile windmill, a better suited permanent magnet generator would be needed.
Resources
http://www.city-data.com/
http://www.scientificamerican.com/
http://solar-panel-reviews.org/
http://thefraserdomain.typepad.com/
http://www.solarnavigator.net/
http://www.greenpacks.org/
http://www.opex-energy.com/
http://www.thegreentechnologyblog.com/