Components
| | | |
| --- | --- | --- |
| QTY | Part Description | Price |
| 1 | 30A Current Sensor Module ACS712 | $2 |
| 1 | SMP60N06-14 SILICONIX N-CHANNEL | $1 |
| 1 | FT232RL 3.3V 5.5V FTDI USB to TTL Serial Adapter Module | $5 |
| 1 | Atmega328P Pro Mini Board | $5 |
| 2 | TMP36 TMP36GT9Z Low Voltage Temperature Sensor | $2 |
| 1 | 6mm x 30mm F10AL250V FUSES 10A 250V  | $1 |
| 1 | AGC In Line Fuse Holder Screw Type fit 6x30mm | $1 |
| 1 | MAX7219 8-Digit 7 Segment Red Digital LED Display | $6 |
| 3 | Old salvaged CPU heat sinks | Free |
3D Printed Parts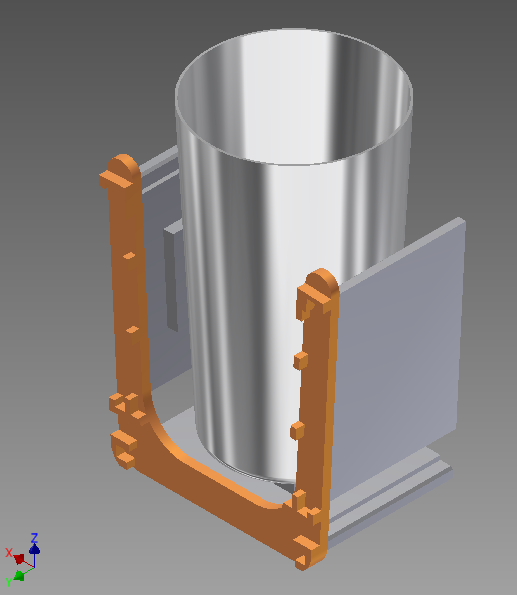 Outcome
This project was doomed from the start but it was a good opportunity to experiment with Peltier plates, switching power with a FET, current sensors, temperature sensors, etc. The major flaws are listed below:
A very small contact zone between the cup and the cold side of the Peltier which makes for poor conduction.

Trying to cool a pint of water by cooling a small section of a metal cup. Since the water is not circulating and the contact patch is small, only water that is local to the patch would be cooled.

Terrible efficiency of Peltier. For similar input power a conventional refrigerator work be much more effective. To maintain efficiency the warm side must be cooled.
Source Code
cup_cooler_code.zip 
Note that the source code in the zip file above relies on the LedControl library.